The new product that has revolutionised and conquered the international market, Aspecta® floating LVT flooring system.
It has been developed with an eye towards architects and installers so that we can offer the best product and service excellence to the customer who chooses Aspecta in each of its collections, from Aspecta One, through Aspecta One Ornamental or Aspecta Five, to Aspecta Ten and Aspecta Tilt & Tones – offering a wide range of options in over 200 designs and a variety of formats, chosen by architects, designers and tradesmen around the world for a wide range of luxury residential and commercial applications.
Based in the Netherlands, Aspecta® offers its products in more than 40 countries on five continents through sales divisions in North America, Europe, Russia, the Middle East and Asia-Pacific.
As a world leader in the industry, Aspecta® has created an exceptional product: let's take a look at its composition!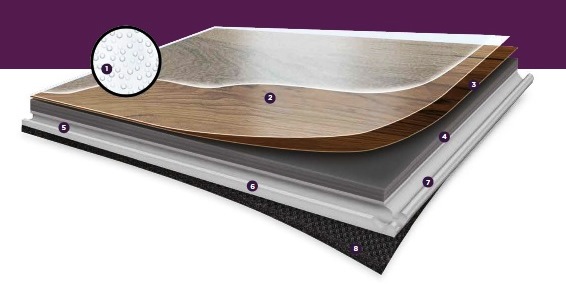 The top protective foil has been improved by adding ceramic powder that guarantees extreme resistance to footsteps and stains. An antimicrobial agent dispersed as with silver salts in stoneware then ensures long-lasting healthiness. The second 'wear layer', provides support and defences against scratches and knocks, (1 & 2)
The decorative part is printed in high resolution and pressed onto a 3mm substrate, giving us depth and a pleasant texture (3 & 4)
The core is the most valuable part. ISOCORE technology consists of an extruded closed-cell vinyl construction. Rigid. Robust. Waterproof. Moulded with tongue-and-groove joints, it allows easy installation

(5, 6 and 7)

for which it is no longer necessary to lay the sound-absorbing mattress: it is already applied to the bottom!

(8)
Aspecta® products are available in dryback (glue-laying) and floating multilayer versions and offer Isocore Technology™: The rigid closed-cell Isocore core is strong, light and easy to install, making them the best flooring for both new construction and renovation.
You can even install it in the bathroom, which has always been an off-limits environment, without fear of moisture damaging it, or on a heated floor: heat transmission is guaranteed, and the planks will accommodate expansion without cracking.
Aspecta®'s portfolio of LVT planks and tiles offer high quality finishes, superior designs and colours, as well as durability, safety and warmth underfoot. Extremely easy to maintain, Aspecta® is ideal for busy commercial environments.
Complete, spectacular, incredibly functional and technologically advanced: the complete range can be seen on our website online and in our showroom in Cernusco sul Naviglio (Milan)!
Discover the collection, all the novelties and the best products on the international market just a click away!